A-Team Episode 3×07
A-Team Episode 3×07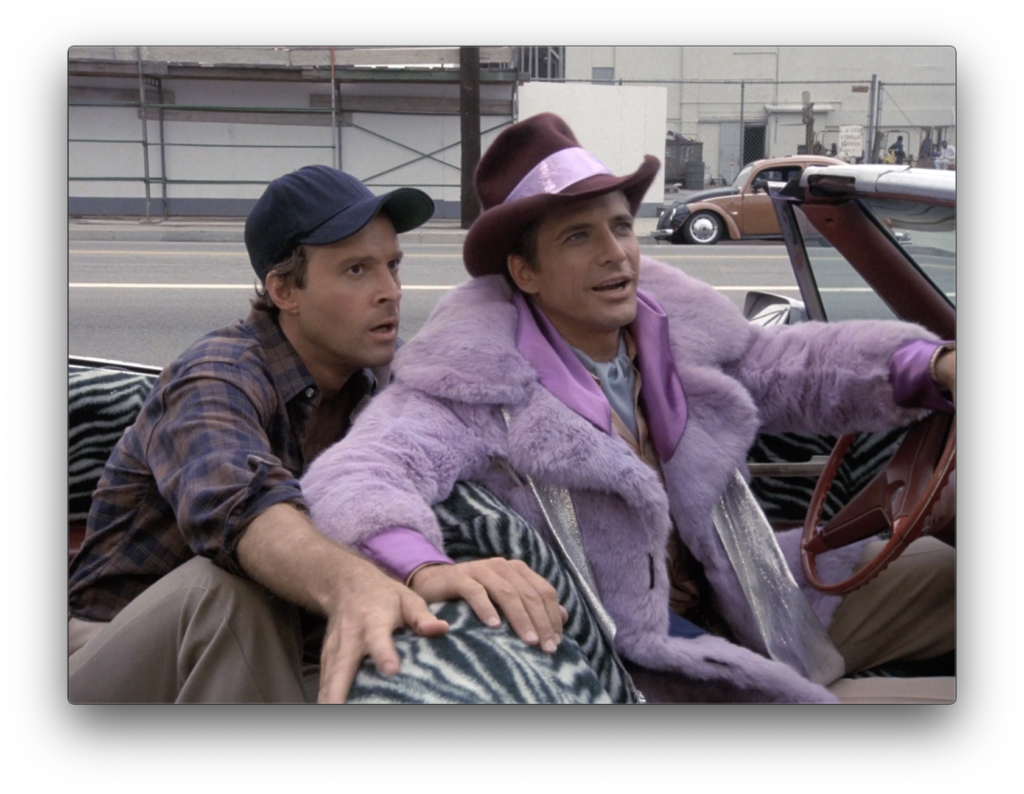 "Trouble on Wheels"
Location: Van Nuys, California
Tank: 1965 Cadillac DeVille (or close to it)
Disguises: Motorcycle Cop (ironically, one of the few times Hannibal doesn't wear a mustache for his disguise)
Scam: Cadillac (see the tank)
Flight: No
Fixation: Not really, but wow, that Crazy Willie!
Flips: 1
Fee: Bundle of C-notes. Offered weekly, but probably didn't need it.
Quote: "I know their reputation, they're deadly" – Cop, who apparently has never actually watched the A-Team.
Who is that?? Crazy Willie, Marlon Brando. Hint: wait, no, that's Dwight Schultz!
Why do bad guys always squeal the tires even when they're trying to quietly kidnap someone? I mean if they would just drive away all casual, no one would notice, but there's just something that makes them need to do a burn-out when taking someone off to their lair. HEY, EVERYONE, WE JUST KIDNAPPED SOMEONE! HOPE NONE OF YOU NOTICED!
Anyway, lots of stock footage in this ep of robots building cars. It's kind of fun to think that even in the early 80's, cars were built by robots. The stock footage in this ep is noticeably blurry now that I'm watching the show in High Def, baby! (nope, still hasn't gotten old).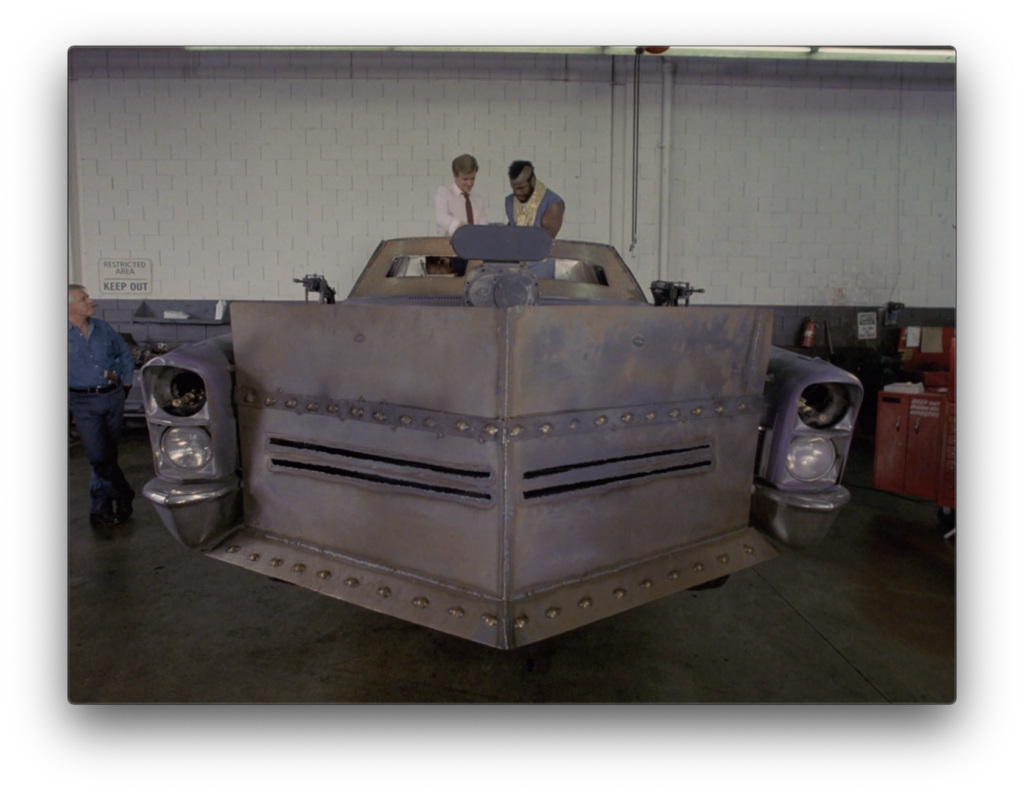 The bad guys are pilfering parts from an assembly plant and beating up anyone who noses in on the operation. During the set-up phase of the plan, Face scams up a terrific old Cadillac which is initially used as little more than an advertisement for their auto parts store. My first thought when I saw this thing was "now that's a car begging to be made into a tank." Actually, my first thought was "Bwahahahahahahahahaha!!!!!" …but my second thought was totally that thing I said earlier.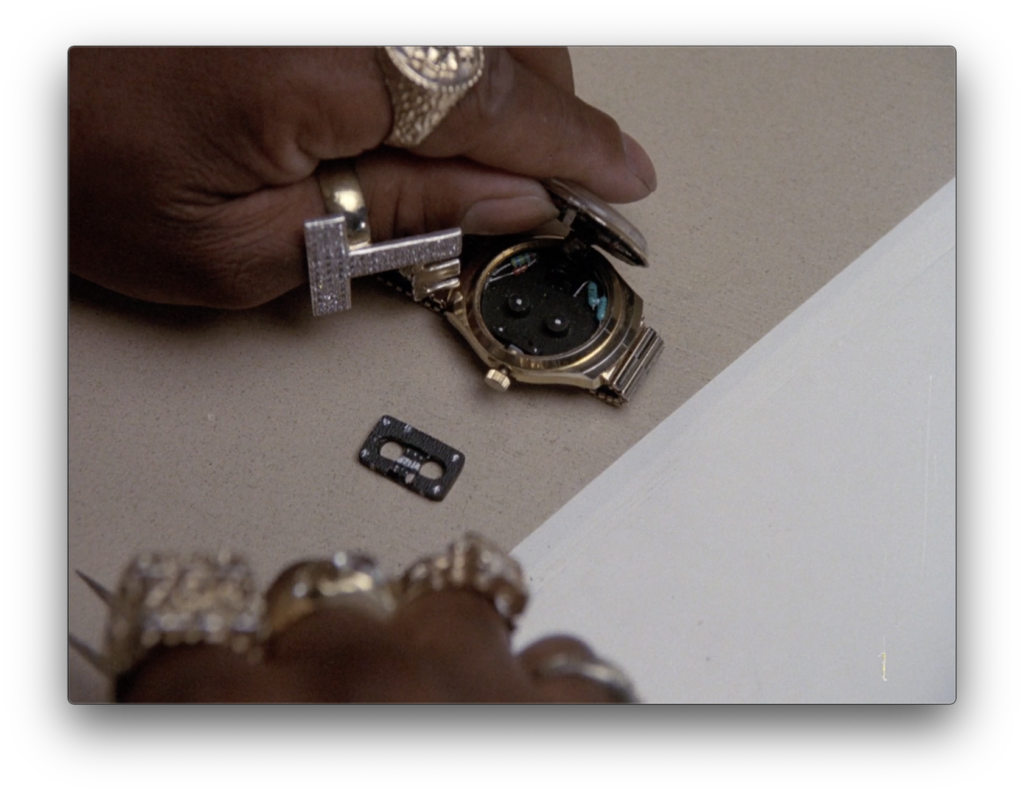 This ep had several great moments–we're pretty sure our heroes have bugged the bad guy lunch room, but they sweep it and find nothing. It turns out Murdock himself was in the soda machine, ready with a handful of sodas to drop them through the slot on demand. He even made $0.50 out of it. Back at the shop, you can spot lots of fun things on the walls if you look around. A couple of my favorites are below.
Prosecute, execute… whatever

Fully readable thanks to HD! (ok, fine, I googled this one)
I've saved the highlight of the ep for last, and that would have to be Dwight Schultz's Crazy Willie. This scene was just awesome, easily one of the best scenes of the entire series, Schultz just nails Brando.
So yeah. The bad guys kidnap the client and his family (after cleverly calling the cops our heroes' fake stolen-merchandise clearing house), the Team escapes, builds the Cadillac War-wagon, and rescues them. Come to think of it, Murdock was really the star of this ep, as he got to drive the tank, a task normally reserved for B.A. (who suffered a foot injury earlier–thanks to Murdock).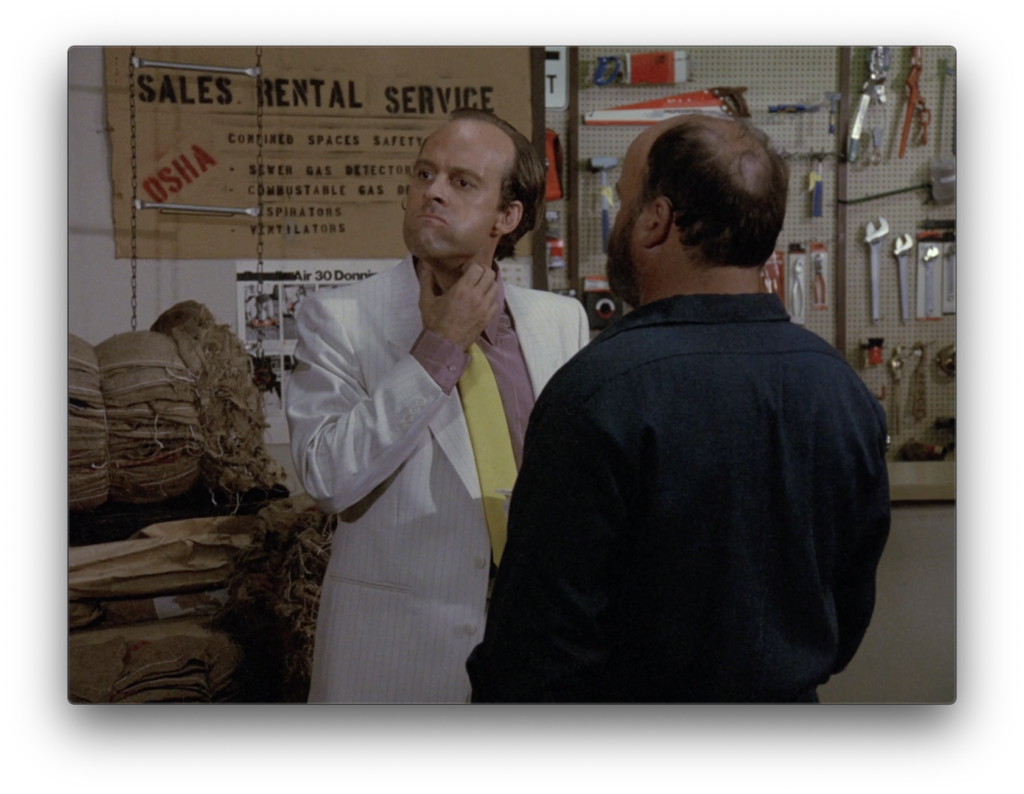 B.A. suffers the second of two foot injuries and then still has it in him to chase down Murdock when it's his Van at stake. And that's a wrap–roll credits on what's definitely one of my favorite eps so far. Great Tank, great twists, and awesome Murdock work.